2017-02-01 12:00
SHRIEKFEST INTERVIEW
Samuel & George Clemens
Filmmakers
2016 Official Selection "Surgery"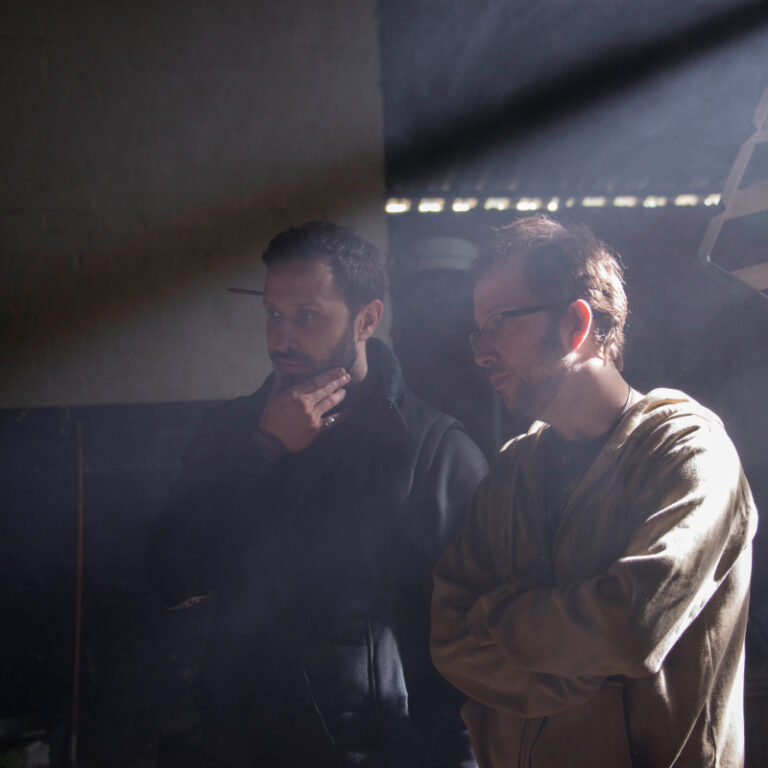 What is your name, company name, and URL?
Our names are Samuel & George Clemens, proud sons of the late screenwriter Brian Clemens (The Avengers, The Persuaders, Highlander 2, Blind Terror, Captain Kronos, Dr Jekyll & Sister Hyde). We are The Clemens Bros and our company is Clemens Enterprises Ltd and our URL is www.clemensbros.co.uk
That is awesome you had a Father who was so successful! What is your specialty: filmmaking or screenwriting? If filmmaking, which aspects?
I trained as an actor at The Drama Centre London and continue to act, George trained as an editor at the London Film Academy and continues to edit. In 2005 we decided to combine our skills and experience and make films. Being able to work with the actors and direct performance is what drives me most, whereas George loves the the camera and composition, plus having the editor on set is very helpful indeed. We both produce our projects too, I focus more on pre production and production and George takes over on post. I also write our projects too. This was primarily out of necessity but has become a joy to do and now I write everything we do and George provides the perfect critique. So we do both really.
Wow! That is so great that you both work so well together. What are you currently working on?
We are currently working on two projects. A new short film, 'Say No', co-produced by The Rose Theatre in Kingston, London. 'Say No' is a drama about school girl Rossella, who has just split up with her boyfriend and is travelling to school with a handbag full of guns. The films explores the ever present dangers of gun crime.In terms of horror, we are in the process of setting up our supernatural horror feature 'The Still'. It is the last script our father ever wrote. We were writing it together and now it is finished and we are sourcing producers and financing.
Wow! You've been busy! How amazing to be able to work on something that your Father worked on. Who do you consider your mentor and why?
Our father, for unknowingly giving us a film education by showing us films and television since the birth of cinema. His love, passion and sheer unquenchable knowledge for film was astonishing and aspirational. His motto for writing was 'Arse to chair, pen to paper'. We have taken that motto into our work in that, it's all about doing, actively pursuing and doing. No one is going to make your film but you until others want to.
I love that! He had great advice! Why do you think the horror/sci-fi genres have such a large following?
Because they can take you to worlds beyond our own both in terms of science and spirit. From visual, philosophical, technological ground breaking 2001: A Space Odyssey to the universally frightening, birth of the blockbuster Jaws, they simply have the freedom in either a real based setting or fantastical setting to do anything you can think of. So many of our favourite films are these two genres. They allow you to see the future, the past, the real, the surreal, they fascinate, horrify, scare, overwhelm and give us a timeline to the worlds attitudes at particular times in history.
Very true! What do you love most about this business?
When you are working on a project time ceases to worry you. Doing what you love is very special and lucky and if you get to work on a film you are lucky and understand the feeling we are describing. The fact that everyday is different and you have the opportunity to meet and co-ordinate so many talented people in so many varied fields, it is a privilege to learn from them.
That is so very true! What do you dislike most about this business?
Three things, one, talented people being asked to work for free or little money with promises of credits. Two, there are so little repeated viewings of films that they disappear very quickly and aren't loved and given the attention they once were. Making your film for second viewings is great but how many people do give them second viewings anymore? Lastly, the lack of faith in original ideas, so few get through. TV seems to be the place for different and challenging stories.
I hear ya! What career accomplishment are you most proud of?
We are very proud of the inception and execution of 'Surgery'. Being our father's final idea before he died and getting to make it so quickly and all the help financially from crowd funding and talent was very humbling. But the success of 'Surgery' on the festival circuit was incredible but hands down the audience response to the film has been truly amazing. We've had people faint in three screenings we've attended so far. We wish we had thought of that as a marketing tool!
LOL I love that! You guys did an amazing job on Surgery! Any advice you'd like to give to newbies?
Don't talk, do. That doesn't mean just go out and make it but hustle, talk to people, go to film nights, talk to the filmmakers whose films you enjoyed. Use every connection you can and try and build a supportive team that want to work with you and help you. Very few people come up on their own. Make sure your script is great, if the blue print isn't good or has problems so will your film. You won't be able to solve story problems in the edit. Write it, take a break, come back, rewrite, send it to trusted people, get opinions and then throw it all out of the window and go with your gut. Our father once said "You've got to have the freedom to break the rules, if I looked at your script I'd want to change it and do it my way but maybe with years of experience my way isn't the best way as new rules need to be broken".
Great advice! Anything else you'd like to say?
From cold London to sunny LA, we'd like to thank Shriekfest for allowing us to do this interview. Follow us on twitter @ClemensBros for our latest film news.
Aww, thank you! It was great chatting!