2018-04-01 12:00
SHRIEKFEST INTERVIEW
David E. Munz-Maire
Writer/Director/Producer
2015 Official Selection "Chateau Sauvignon: Terroir"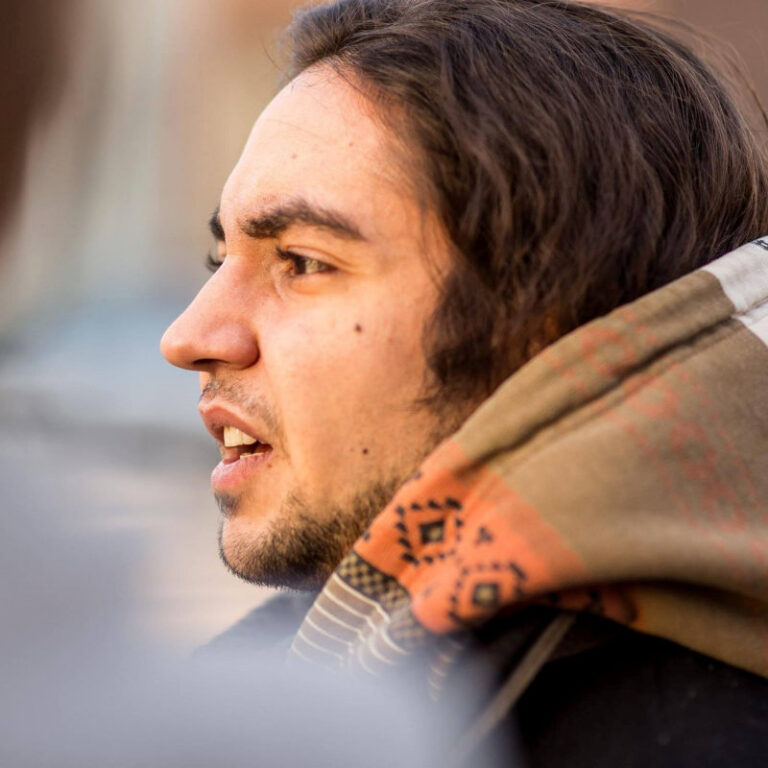 What is your name, company name, and URL?
David E. Munz-Maire (D. M. 'Night' Maire) and I co-founded AireBedd, a production company based out of New York City focusing on short form content. Here are my plugs: website: https://www.airebedd.com, vimeo: https://vimeo.com/airebedd, facebook: https://www.facebook.com/AireBedd/
What is your specialty: filmmaking or screenwriting? If filmmaking, which aspects?
My specialty is storytelling. My passion is directing. My focus is producing.
What are you currently working on?
Currently, I am in development on Andrew Edison's (director of Kevin Smith's Bindlestiffs) second feature film, my first, with principal photography scheduled for early Summer. This untitled feature project will merge found footage and film noire to craft a comedic thriller that follows Steve, who, after the disappearance of his year-long girlfriend, is swept into a whirlwind of mystery and must sacrifice everything to uncover the truth about the love of his life. Also, I am in pre-production on Brian Blum's next short film tentatively titled 'Yoshiko-Chan', which is slated to go into production in late March in Miami. Off the success of his last short film, 'Blood and Water', this based-on-true-events story explores the personal and cultural shame a Japanese mother associates with having an autistic child. Otherwise, I oversee the festival submissions for several short films I produced, including two of our most recent productions - an 8min neo-noire entitled "The Hobbyist" and "Mariposas" a super short (3min) which lives more in the fantastical genre.
Wow! You've been busy! Who do you consider your mentor and why?
To be determined.
Why do you think the horror/sci-fi genres have such a large following?
The simplest and most basic reason to me is because they're fun, and being spooked can be a thrill. Moreover, the exploration of the unknown allows the viewers' minds to wonder beyond the event horizon of consciousness, into the abyss, and stumble through the darkness of their innermost repressions. The horror/sci-fi genres transports us to wild places like mental asylums and blackholes, allowing its viewers to explore their fears and the unknown (often conjointly), all from the comfort of their seats. Film, as with all art, should be cathartic, and the horror/sci-fi genres are deeply purgative viewing experiences, as audience members will inevitably come out the other side unscathed, laughing off the chills with the rest of the crowd as they leave the theater.
Yes! What do you love most about this business?
The communal aspect of the filmmaking is one of my favorite parts of the business. Having all of these creative minds with their varying experiences assimilate to create something that can move the masses is inspiring. My upbringing was extremely cosmopolitan, and having been fortunate enough to sample dozens of cultures, I formed my worldly perspective which allows me to be adept at working with people from all walks of life, open minded when confronted with new ideas, and inventive when tackling creative problem solving. Traveling has allowed me to realize that there is not just one way of doing things, and, in the end, we all have the same needs and wants, so it makes more sense to work together. Zealous to continue discovering what our planet and its inhabitants have to offer, I also love that the cinematic medium will allow me to persevere in this quest by discovering new parts of the globe.
Well said! What do you dislike most about this business?
Hands down, I dislike how much money it takes to get a project off the ground. Making (good) movies continues to be the most expensive art form, even in this digital age.
I hear ya! It is frustrating. What career accomplishment are you most proud of?
'Chateau Sauvignon: terroir', the last short I wrote and directed, will be ending its festival run later in 2019 after being on the circuit for over 3 years. To date, it has garnered over 250 official selections from film festivals world over, and accumulated more than 100 awards and 100 additional nominations.
Wow! that is impressive! It's a great film, well deserved! Any advice you'd like to give to newbies?
Respect and trust the people you hire and work with; they are in the creative trenches with you, and their goal is to achieve your vision. Also, perseverance is key. In all aspects of production, and your career. Don't give up, whether its finding the patience to re-write draft after draft of your first short film until 'it works', submitting project after project to a festival until your dozenth short film finally receives that coveted award, or pitching investor after investor until your first feature is green lit. Crafting a strong portfolio is essential as a freelance creative, and demonstrating progression of quality is as important as developing a distinct aesthetic style. To this end, mistakes are inevitable, so make them often and early on through creation and experimentation, as they will be invaluable learning opportunities. Make Art.
Great advice! Anything else you'd like to say?
Peep these short promotional videos I co-directed and produced for Nothing More's most recent album 'The Stories We Tell Ourselves': 'Engagement' (https://www.instagram.com/p/BaZ6HprhXCx/?hl=en&taken-by=nothingmoremusic), 'The Note' (https://www.instagram.com/p/BbAbW7QhIW1/?taken-by=nothingmoremusic), 'Stick n Carrot' (https://www.instagram.com/p/Bbh-D0KhSoJ/?taken-by=nothingmoremusic)
Thank you David! It was great chatting!